A quiz for class 6th to 8th was organised. There was four teams.There was 3 rounds- PISA round, MCQ round and rapid fire round.
The quiz was judged by Ms. namarta and Mr. Sanjeev.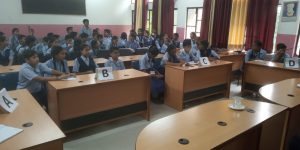 It was organised by Ms. Nisha Chauhan and Mr. Sumit under the supervision of Maths Club Coordinator Ms. Ruchi.